There's been a lot of road work here recently, and I find myself crawling past local police at least once a week. A few asked about the bike's lack of license plate (in CT it's still regarded a 'scooter', no problem), but one guy mentioned that it should still have lights. He was right - I'd put non-functional lighting on my ICE bikes and left the Zero's headlight on for just this reason. With 3 number plates an MXR screams 'race bike!' at every cop, so I figured it was time to blend in rather than stand out.
The front was easy - Liquid hooked me up with a Polisport Halo headlight and top mount, then I stole the bottom mount from my EXR-conversion kit. I also installed reflectors on the turn-signal mounts for a little more street-bike camouflage. This helped with the approach and drive-by, but out back I still had nothing.
I looked at a number of tail-tidy things and smallish taillights, but it seemed like all were too big, weirdly shaped, or had some kind of giant plate mount I didn't want. Then this
Akozon unit
popped up on Amazon, and for $10 I figured what the hell. So glad I did! I really like the way it looks - a white fender tipped with reflective red, just what I wanted. The pics don't do it justice - in person it really looks like it was designed to fit the fender. This light has 15 LED's, looks like the outer 2 pairs could be wired as turn signals (likely a real pain to do). It might also be an easy way to make an MXR enduro-legal, using a front-brake MC switch and small 12V battery.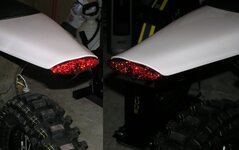 It looks awful underneath, same as before
- but it's rock solid and I doubt it's going anywhere soon.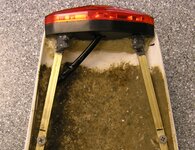 I haven't tried the light, but here's what it looks like illuminated:

Briefly... 305mm/12" K&S 8266 rectangular brass tubing cut to two @120mm lengths, one M5 hole each @ 108mm from the back of the light, other tube ends tie-wrapped to light's M5 mounting screws & JB Welded, double-stick tape from the lens top to the fender, two M5 stainless screws into fender threads, then a ton of PL Premium or similar construction adhesive around the light/fender junction and JB Welded areas (see 2nd pic, PL is light brown, JB Weld dark gray). I used a little PL around the screw heads, no LocTite at all. This light only weighs @ 90g, so this should hold it fine.
I used 4 screws on my bike, and spun the front RH insert. Next time I'll try heating the screw heads with a big soldering iron, softening the LocTite but not the plastic.