I'll never forget the first time I saw an Alta up close - a '17 MX, at Town & Country Cycle in Hamburg, NJ. I was really impressed - the quality ! fit & finish! components! - and this was all before the test ride.
The Brembo stuff looked great, and the brake pedal had plenty of clearance to the footpeg pivot with a cool showbike-style height adjuster. I remember thinking it would be so nice to have good stoppers from jump, after initial minor adjustments.
5 years later, things are a bit different. All that's left of my OEM system are the pedal, calipers, and hoses.
I need my brakes to react
instantly
,
strongly
, and
consistently
to rider input. My '08 YZ250F took two rides and @ 10 mins total adjustment time to get and stay there; every other bike I've owned fought me, sometimes to a draw. My Alta's pretty good now, though I'd still like 1-finger power up front.
Front Brake
(pads, master cylinder)
The OEM setup worked decently at first; the new sintered pads & new rotor mated well, and the lower-pressure hydraulics (11.6:1, caliper:MC-piston area ratio) worked fine for me w/3 fingers but felt weak using 2, and unusable w/1 finger (which I strongly prefer). The rotor wore quickly & the holes carved slots in the pads, causing the brake to lose power. I surfaced the pads, but even after re-bedding them it was never the same. If you want to use new sintered pads and have a worn rotor, I'd highly recommend a new rotor or they'll take a long time to break in, with reduced braking power until then.
Next up were Brembo carbon-ceramic pads (below, OEM on R), which worked well for me on another 11:1 lower-pressure system. Once broken in they worked better than the OEM's even with the worn/uneven rotor, with more initial 'bite' and consistency. I've found that all pads - especially sintered - work quicker & stronger with higher pressure that raises friction-surface temps quickly, keeps the rotor surface flatter and debris out of the contact patches, and usually has shorter brake-on periods that are easier on rotors.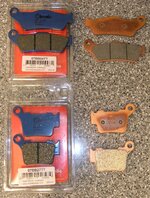 Like many Brembo and/or non-sintered pads I've tried, I had to source these from Europe (I've had good luck with Carpimoto and M4Tuning). Ask questions and get photos before you buy if there's any doubt about what you're getting, as nowadays it's ridiculously expensive to return them even if the vendor is willing.
At this point things were better but still not quite there, so I put on the Nissin '3/8' (.375" / 9.5mm-piston) master cylinder from my wheelie-practice bike (used on Yamaha '08 YZ250F and many other YZ's, eBay etc.), for a 12.7:1 ratio. I like the Nissin lever a little better, and I can adjust it closer to the grip. I also like the front hose connection, which adds a little hose slack & routes it away from the number plate.

It was definitely an improvement on the Alta, but not like it was on the other 11mm-MC system. My front brake is now instant and consistent, though not as powerful as I'd like. I may go to a 9mm Nissin or Brembo MC in the future (p/n 10767774,
OPP Racing
), but I've got consistent 2-finger braking now so I'll live with it for a while.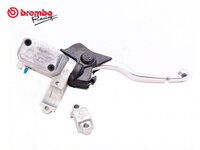 Rear Brake
(pads, master cylinder, pedal-height adjuster, MC-plunger shimming, return spring)
The rear-brake work made the front look easy.
The weird pedal-height adjuster had very limited range, so I had to make up a larger one that hit the pedal-pivot boss.
With grinding I just barely squeaked out the tip lowering I needed (pic below is pre-final-adjustment, it almost hits the pedal boss now). I wanted a pedal that my foot didn't touch till I braked, then had extremely short tip travel to full braking power. To do this I had to set the pedal height precisely by trial and error, then adjust out nearly all the pad / rotor clearance with the shim washers. The tip of my brake pedal moves a total of .310" / 8mm, and the brake doesn't drag at all.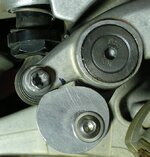 Since the weak OEM return spring necessitated using an aftermarket Fasst spring, which eliminated the ability to thread-adjust the MC plunger at the low pedal height I had to use, the plunger needed to be shimmed using washers between the Fasst spring retainer and the plunger bottom - like I said, easy.
I mean
precise
shimming; .133" / 3.38mm was too much (brake dragging) and .125" / 3.2mm wasn't enough (no dragging, but a little too much foot motion / effort required for instant braking). Hopefully .130" / 3.3mm will be perfect (the arm ratio is 6.3:1, pedal tip to MC-plunger motion). The good news is I finally have a rear brake that does exactly what I want, and nothing I don't.
I also changed out the OEM PS13 master cylinder to a PS12 (Brembo p/n 10.8505.20,
OPP Racing
again; Brembo makes an 11mm, but it has a remote reservoir) for more
everything
; I found the 13 to be slow, weak, and inconsistent (OEM PS13 ratio 4:1, PS12 4.7:1). I used the same carbon-ceramic friction material as the front, which responded well to the increased pressure. It was a pain to bleed as the hose goes up and then down, but it got done (love that
Motion Pro brake bleeder
, and the Brembo no-leak nipples too). The old MC's rubber boot had to be moved over to the new MC as the new center hole was too small.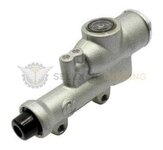 Motion Pro bleeder: