Administrator
Staff member
Ken Roczen Flies on the Stark Varg​
Photos by Stark/JP Acevedo
Two-time AMA 450 Class Pro Motocross champion and two-time 450SX AMA Supercross runner-up and arguably the highest-profile rider in international dirt bike racing,
Ken Roczen
, was the latest name to take the new Stark Varg electric motocross bike through its paces this week.
The 28-year-old—the inaugural FIM World Supercross #1 and recent King of Paris—traveled to Barcelona, Spain to test Stark Future's flagship model that is set to ship in the first quarter of 2023, and with pre-orders of 15,000 units globally, the Varg is of the most successful launch motorcycles in history.
The test session lasted for around three hours at the MX Golf facility in Catalunya, the scene of the Stark Varg's international press test this summer.
"The anticipation was really high," Roczen said. "We started on a motocross track and transitioned to supercross. I was very curious coming here—a very cool track by the way—and the Varg didn't disappoint. I had so much fun today."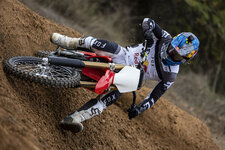 Ken Roczen on the Stark VARG electric dirt bike.
"The anticipation was really high. ...I was very curious coming here and the Varg didn't disappoint. I had so much fun today." -Ken Roczen
Stark/JP Acevedo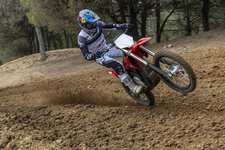 "Describing it in one word is almost impossible! You really have to be able to ride it to wrap your head around it. It's like a Tesla; the power is just there." -Ken Roczen
Stark/JP Acevedo
Roczen won the 2011 MX2 Motocross World Championship before moving to AMA competition in the United States where he claimed another three titles in 250cc and 450cc divisions both in AMA Supercross and Motocross as well as other accolades such as the Monster Energy FIM Motocross of Nations, the Monster Energy Cup, and the Red Bull Straight Rhythm. The German has ridden factory race machinery for three brands and has claimed at least one 450SX main event victory for the last three seasons.
His appearance in Catalunya led to a first taste of electric dirt bike technology and specifically the Stark Varg's superior power-to-weight ratio and performance specs compared to other combustion-engined competitors currently on the market.
"It has a very different ride feel," he offered. "We went back-and-forth between the Varg and a regular dirt bike and I could tell right away that the Stark bike has something special. The track was ripped quite deep and was pretty rough and the Varg felt like it was almost hovering over the ground. It was amazing that way, an amazing feeling, and different to what I was used to. The power was incredible and it was super-fast."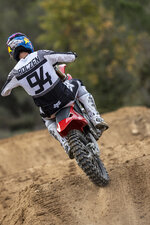 Roczen tested the Stark Varg electric dirt bike for about three hours on Monday after claiming the 2022 King of Paris honors the night before.
Stark/JP Acevedo
The #94 is known as one of the most popular and "followed" athletes in the offroad motorcycle scene thanks to recognizable and long-term associations with brands like Red Bull and Fox Racing. His extrovert personality has also built his profile, to the point where he now has over 1.5 million followers on Instagram alone, a third more than current 2022 SX champion
Eli Tomac
and over a million more than former HRC teammate and '22 title contender
Chase Sexton
.
After six years in HRC colors, Roczen is now poised to sign a fresh contract for supercross racing in 2023 but the potential of the Stark Varg certainly left an impression.
"We rode a lot of motocross and then supercross took a bit more time to get used to…but I had a lot of fun," he commented. "I hope to get my hands on a Varg asap and hopefully do some more testing in the future."
"Describing it in one word is almost impossible!" he concluded. "You really have to be able to ride it to wrap your head around it. It's like a Tesla; the power is just there."
Source:
RacerXonline.com