The Stark LHRB looks to be a pretty good option, and may make this post obsolete, but I figured I'd post the info here if anyone needs it.
Brake Lever -
Google Search for Correct lever
Brembo master cylinder, clutch, ps 9x17.7 w/ integrated reservoir w/ polished adj.
I purchased mine from here
Brembo Lever
This is the 9mm version which I chose to go with: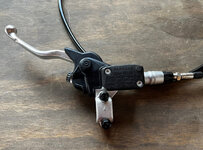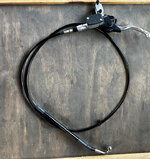 The cable can be ordered from
Spiegler Brake Lines
I am posting a copy of my receipt below so you can just duplicate it.
The only thing I do not like about the custom brake line is the sweep on the end that hooks to the brake caliper is a bit deeper than stock. It fits, but the bottom of the sweep is directly against the swingarm.
The code for the Spiegler brake line order posted below:
1701 = mms length (67 inches)
019 = Banjo fitting 10mm / 3/8" 90 Degrees
410 = M10x1.0 male swivel fitting (goes into Brembo Clutch Lever)
0075 = mms start of hard plastic protector from 90 banjo end (3 inches) (hard plastic protector goes into holder on swingarm)
0205 = mms length of hard plastic coating (8 inches)
As to Routing, I routed mine through the frame, and not along the outside like Alta suggested. Works fine, and is more streamlined, but you may wish to route differently.