In the ongoing process of converting my AER to simple air pressure (SAP), I realized some of the mods can be done with the fork & caps in place, for very little work or $. Either or both bleeder screws can be replaced with air valves (plus a reducer for the RH valve if used), a small amount of oil is squirted thru the OEM AER air valve and the fork compressed a few times, compressed air is put in, and for best results, more oil is put into the fork legs thru the new valves. That's it! As long as the M4 reducer adaptor below clears the adjusters, the air valves should also work on the Xplor / 4CS / SM forks. NOTE: These tweaks are intended only for
OEM Alta
components (fork caps, TCs, bar mounts, etc.); they may also work on aftermarket stuff, or they may not.
The results are
1) reduced AER stiction (imo why many riders don't like it), especially with the pressures recommended below
2) two combined spring curves (one like a coil spring, the other quite different), each individually adjustable in the AER
3) tunable anti-bottoming (mild to fairly strong) using oil level + air pressure, which is
much
more effective than oil alone
SAP works differently than coil or WP twin-chamber-air (TCA) springs. Instead of always quickly returning the fork back to the race-sag point after compression, SAP has more of a 'dynamic sag' that changes according to the average of up/down forces at any given time. SAP springing is also less position-sensitive, giving roughly-similar downforce on identical impacts over a wide range of travel (coil/TCA springs apply significantly more downforce at more compression/longer travel). I've found SAP works well for braking bumps, rough corners/downhills, and many other situations too. Successfully switching to SAP-only takes a fair amount of effort & expense, but SAP is easy to combine with existing springs & adds a lot of adjustability with little or no downside. If your coil-spring Alta fork is correct or too stiff, SAP + more oil can help mainly with bottoming & brake dive, but SAP can also be used to soften up the AER or firm up any of the forks & make a night-and-day difference in overall springing performance, saving a bunch of time & money too.
The AER fork's weak link is the TCA spring's lack of oil-bath lubrication. Instead of this nearly-universal & excellent low-maint. method, WP uses 11cc of grease, to be repacked after the initial 10 hours & every 40 hrs thereafter. This is a real pain, even if you already have the required 37mm tube clamp/vise and don't melt the top-out spring holder with the torch.
Grease works great in rolling-element bearings, less so in high-speed bidirectional sliding applications where it's rapidly pushed out into the end spaces. The air-spring cartridge could've been designed to use a small oil bath - the center shaft is hollow with two small thru-holes under the piston, looks like they thought about it - but WP went with hand-greasing instead, probably for cost reasons. So... instead of reinventing this wheel, just lubricate the pump thru the air valve (way better than the @ zero grease remaining after 30+ hrs), reduce piston seal-to-cartridge pressure/stiction by dropping the main-air psi, and add a slick-sliding air spring or two to fine-tune. If it doesn't work out, just put everything back to stock.
Here's the new
Schrader air valve
; it fits the M8x1.0 AER LH bleeder hole as-is & can be combined w/reducer below for use in the AER RH & other Alta forks: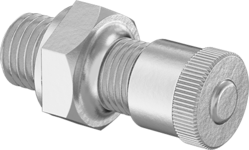 Here's the
M8-to-M4 reducer
needed for the smaller-diameter bleeder holes.
Once the new LH air valve's in, put 30-35 psi pressure in it and let all the air out of the main AER valve, then remove it or its valve core. Compress the forks a bit and squirt in 10-15cc of low-friction lubricant, push the fork way down and halfway up a few times to distribute it, then put the valve or core back in & pressurize as below. The lube will eventually end up in the bottom air chamber where it might splash-lubricate the piston bottom a bit depending on how hard the bike's ridden, but at least it will improve things for a while.
Here's the lubricant (
Finish Line Stanchion Lube
) I'd use for the AER air spring (the whole bottle).
Air Pressure / Oil Level: In AER forks, I'd try removing 30-40 psi from the main air spring combined w/20 psi (LH leg only) or 10 + 10 psi in both legs to start, and you can use up to 650cc oil in either/both legs to increase anti-bottoming force. In non-AER WP forks, do the same except skip the -30-40 psi and use 630cc max oil to be safe (I don't know the coil spring volume). I've used 40 psi and 690cc in the LH leg only w/no problems, so these numbers are pretty conservative. More oil improves the way the new air pressure works, and adds a lot more anti-bottoming effect than the stock 200cc.
For adding oil, this
syringe
setup works well w/no valve-core removal needed (
female Schrader fitting
on hose end, they come in 100ml & smaller sizes too):