Been hard at work all over the Bank Holiday weekend much to my girlfriend's delight.
Got the big 16ton machine out and a 9ton dumper to help move all the soil that's been dumped right on my "parking area" i made last year!.
Two days solid just to move it to where it should have been (in a low area in the next field) to help the people out who own the land my track is on, so managed to get it moved and to get to my stash of soil i had delivered last year but did not get the chance to use, so loaded up & filled in the low spots on the track and had enough to make two new jumps and extend one other that was already there.
Lot's of work as up & down in and out of the digger and dumper and repeat to move it all, i can not stress enough that if your thinking of building your own track get some help from your friends, and how ever much soil/earth you think you need...you need more!!.
So got the place back straight as to where it was last year, and also got all the soil i need on the track and the jumps i wanted also on too. Mega!.
Some picture for your enjoyment.
Got the big guys in this time to get sorted faster...the Digger is so smooth and powerful even on the "eco"setting, and the 9t dumper is amazing and was so much faster and easier than my Tractor & trailer...the pile of soil to the right and beyond is what i needed to move and then over to the left and behind the Dumper. Does not look much...lol!.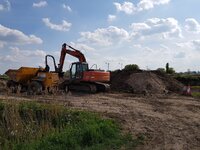 So this is my main two view's i see all day...one from the digger...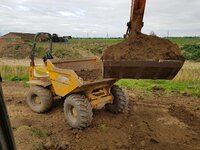 And one from the Dumper!.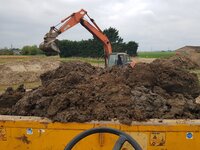 But i did finally manage to get it all clear again, re-grade up the track edge / Bank and get to my soil i needed.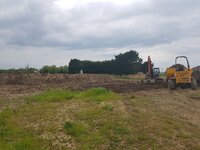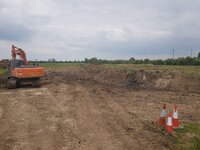 Then onto getting my good soil onto the track in the low area's that the water was all in the pics above. This was so much easier with the Dumper as so much more control as to exactly where the soil was going to be tipped up and amounts etc than using my Tractor and trailer i did last year. So some finally going on the track.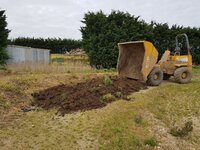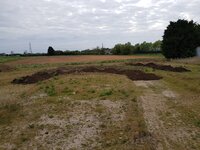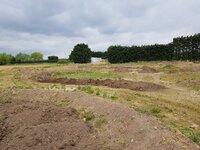 Even had enough to put in two new jumps and extend another one from last year, made a table top in the background and not had chance yet to shape up the other two but i hope to today.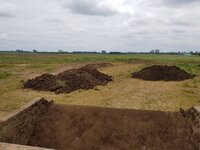 It's getting there, still a lot to do, need to get down there today and rake out all the piles of new soil for the track low area's and to shape up the jumps over the back, then i need to disc up the rest of the track and we should be ready to go!.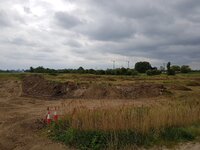 But most important, I have to thank the people who have let me use the land and their help with the machinery too, it would not be possible for this to be happening right now if not. There are still some people left in this world who help because they can, not because they have to. Thank you!.
Finally, pleased to say my MXR has a new friend!. More to come on that soon. Thanks for reading.