Going thru the process of replacing my bent output shaft ... I have the bolt & nut securing the gears off, but cannot get the gears off.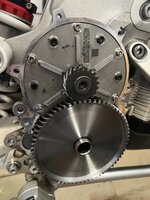 I tried some harbor freight gear pullers, but they cannot get under the gears.
Sounds like I need these tools:
7702418-00 - Sprocket gear removal tool $114.99
7702485-00 - Gear Extractor Pinion $65.99
7702498-00 - Output shaft extractor adapter $15.99
7702499-00 - Outer race roller bearing driver $78.99
from:
I know some of you are a sizable distance from your nearest certified Alta Motors dealer. Thankfully, Alta has posted the complete service and owner's manual online for clients to view: https://www.altamotors.co/ownersmanual/ While I highly recommend taking your bike to a certified Alta dealer...

electricdirtriders.com
ebay/liquid_performance does not have them ... Anybody know who may - For rent or purchase? Or an alternative way / tool?
Thanks,
mike